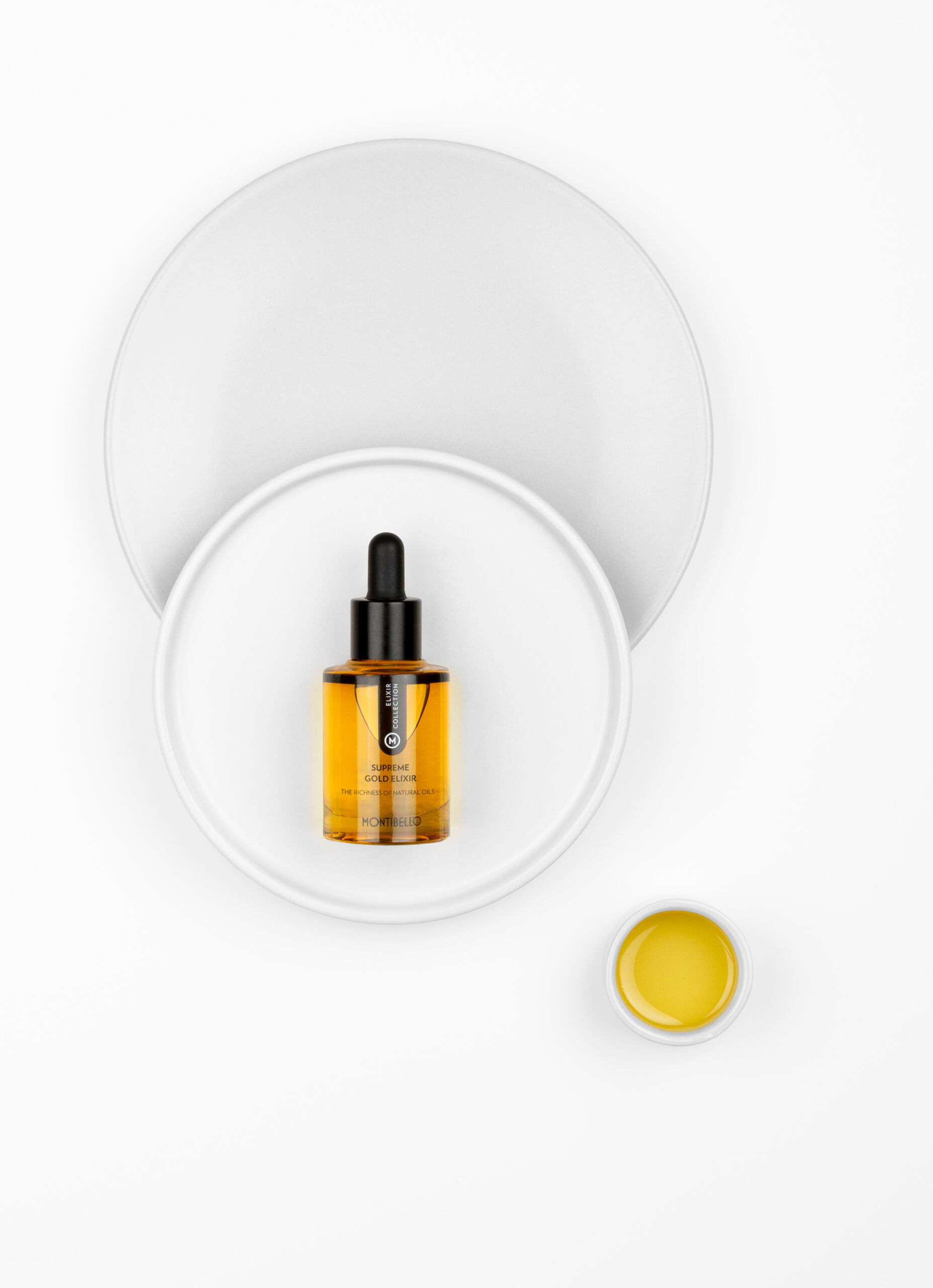 Dry face oils will save your skin this winter
Dry face oils have become one of the cosmetics that famous celebrities swear by these days. This is because their fast-absorbing texture makes it possible to instantly enjoy their benefits. These multi-use products hydrate and soften skin, effectively fighting against skin ageing.
The new generation of cosmetic oils come with ultra-light formulas, which nourish and hydrate without leaving shine and come with a dry finish. Their high nourishing capacity makes them the most effective option to keep skin supple and hydrated all winter.
Care to know more? Depending on how much time you've got, you can apply it as a prior step to your usual cream or mix it in by adding a few drops to the cream.
Today we'd like to talk about SUPREME GOLD ELIXIR, the dry face oil that intensely nourishes and repairs skin, thanks to its 45 precious 100% natural oils, found in its formula.
The sensory pleasure of a precious oil
Botanical oils are the skin's new allies. Rich in essential fatty acids, vitamins and antioxidants, they instantly leave it looking smooth and radiant.
The secret lies in its formula:
Nourishing action: 100% natural botanical oils of argan, avocado, sesame, St John's wort, calendula, rosehip, tsubaki, macadamia, jojoba, babassu, crambe, sunflower and rosemary.
Hydrating action: oils rich in Omega 3 and 6 and phytosterols.
Restoring action: a biomimetic oil-based active, a lipid mixture identical to the composition of young skin, to restore balance in skin, protecting it and increasing its natural defence mechanisms.
Antioxidant and repairing action: thanks to amber oil, a fossilised resin extracted from the Baltic Sea, with antioxidant, regenerative and anti-inflammatory properties, and vitamin E, a powerful antioxidant that protects skin from damage caused by free radicals.
How to use:
Every morning and night, apply a small amount of oil to the face, neck and décolleté. In very dry and/or undernourished areas, apply your usual treatment afterwards or, if you prefer, mix two or three drops of SUPREME GOLD ELIXIR with your usual cream or serum.
Results:
Smooth, supple, shine-free skin from the first day of use. After four weeks of using it, you'll get: skin that's nourished, renewed and restored, which feels soft and delicate to the touch.
Subscribe to our Newsletter