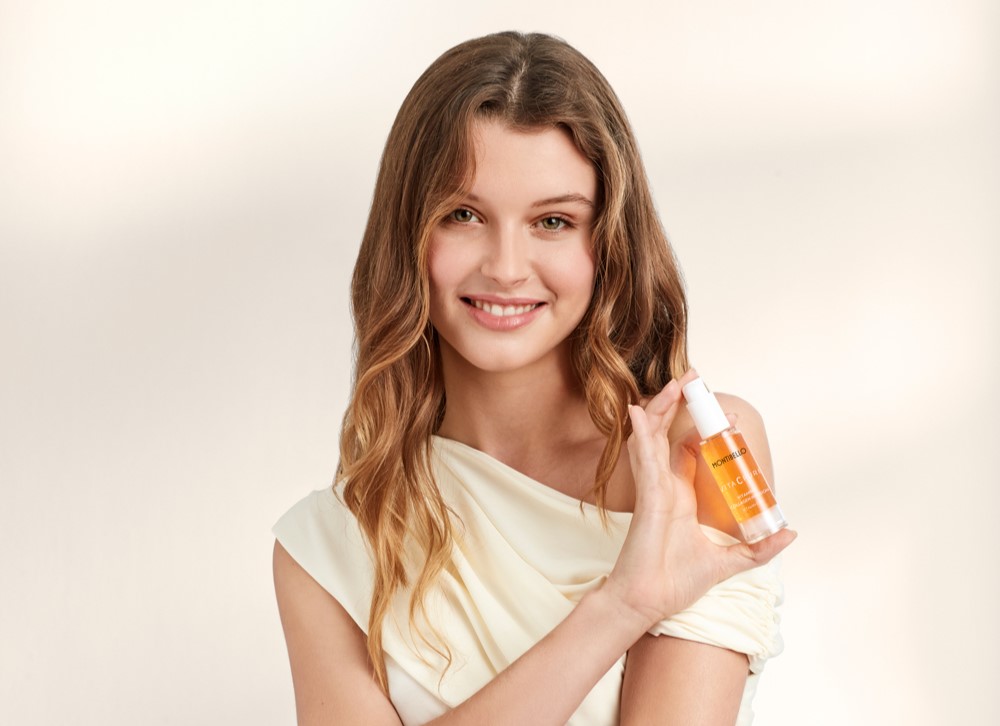 The vitamin C serum that leaves your skin more radiant
In autumn, skin can look duller and those annoying dark spots can also appear. To fight against the passage of time and restore lost radiance to facial skin, vitamin C is one of the most sought-after actives as its effects on skin are simply extraordinary. It performs four fundamental actions:
Antioxidant
Regenerating
Hydrating
Illuminating
Vitamin C serum: a great ally
Serums are characterised by having a high concentration of active ingredients and a lighter texture to promote fast and deep absorption. Therefore, results can be seen sooner than those of other kinds of textures and treatments.
Montibello is proud to say that it has the best vitamin C serum to get more radiant skin with no dark spots. As we've said, if you're looking to prevent and correct early signs of ageing by smoothing out wrinkles and making the skin look more radiant and revitalised, VITAMIN C COLLAGEN INFUSION is the answer.
The effectiveness of this night serum lies in a powerful infusion of concentrated vitamin C, collagen and microencapsulated squalene, whose synergy delivers visible effects in less time.
You can combine its benefits with those of the other products in the range:
VITAMIN C CREAM SPF 15. A day cream with a rich, melt-in texture, with powerful antioxidant properties, which prevents signs of ageing by protecting skin from free radicals and UV radiation. Recommended for normal to dry skin.
VITAMIN C EYE CONTOUR. An eye contour cream with a delicate cashmere texture which instantly optically erases the appearance of wrinkles, leaving the eyes looking brighter and more refreshed.
VITAMIN C EMULSION SPF 15. A day emulsion with a light, silky texture recommended for combination and/or oily skin.
Combine vitamin C with retinol and multiply its results!
Vitamin A or retinol combined with vitamin C delivers the best anti-ageing results. Retinol is the gold standard in antiageing skincare and, together with the antioxidant power of vitamin C, it reveals brighter, firmer and younger-looking skin.
Retinol is vitamin A in the form of an active ingredient in skincare. But it's not the only active ingredient derived from vitamin A. It's actually part of a family called retinoids and the only dermocosmetic active ingredient that has been proven to be effective for more than 40 years now:
At the superficial level, it stimulates and balances cell renewal to even out the skin's surface
At the deeper level, it works thanks to its high bioavailability, that is, its low molecular weight, stimulating the synthesis of collagen and elastin.
This is why its effects include the reduction of wrinkles, the improvement of firmness, the removal of blemishes and the reduction of pore size.
At Montibello, we have Retinol-A, from our SKIN EXPERT line. This ultra-concentrated serum in vials has anti-ageing and regenerating activities. Its results are spectacular and visible early on. In short, it acts as an intensive skin repair serum.
How does it work?
Its innovative formula contains a new generation of encapsulated retinol, which does away with the side effects of sensitisation. Its concentration is 3,000 UI/g and is enhanced with resveratrol.
How to use
We recommend an intensive 14-day treatment course. Apply the vial to the face, neck and décolleté until completely absorbed, preferably at night. To get longer-lasting results, extend the treatment course to a month, always applying the vial prior to your usual treatment cream.
Subscribe to our Newsletter