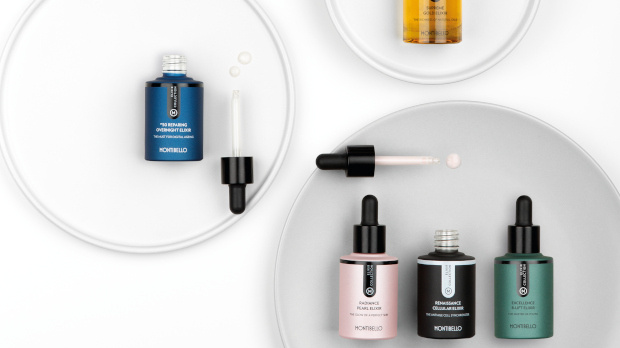 Elixirs: instant beauty results!
Elixirs have become absolute must-haves in any beauty routine. Their fast-absorbing formulas contain a high concentration of active ingredients that penetrate into the deepest layers of skin, revealing their effectiveness instantly.
What's more, you can use them to enrich your usual treatment creams or serums to save some time. Better results in even less time!
To enhance your daily beauty treatments, Montibello has a premium collection of elixirs, with formulas containing carefully selected ingredients. Which one has your name on it?
The newest addition to the Elixir Collection range, it visibly transforms skin by relaxing facial creases, smoothing out wrinkles and restoring the skin's firmness. Its master formula contains a high concentration of the most advanced decontracting peptides on the market that slow down the ageing of skin.
An evanescent anti-ageing elixir that stimulates the cell protection and restoration processes. It effectively fights against skin ageing and signs of fatigue, investing in the future of your skin starting today.
Formulated with Synchro-Repair technology, it's an essential beauty booster for any anti-ageing treatment. Guaranteed to restore youthfulness in seven days.
Radiance Pearl Elixir: a concentrate of radiance and youthfulness
Inspired by the luxury and sophistication of pearls, this illuminating elixir and skin tone corrector contains an exclusive ultra-concentrated formula that restores the skin's lost brightness, youthfulness and evenness thanks to its cutting-edge Light Code technology. Science and luxury to reveal the radiance of young, perfect skin.
Supreme Gold Elixir: the restorative power of an oil, the effectiveness of an elixir
This dry face oil that intensely nourishes and repairs skin, leaving it smooth, elastic and shine free. An ultra-light, melt-in formula based on Oil Perfection technology with nourishing, restoring, antioxidant and repairing action. Supreme Gold Elixir is inspired by the richness of 15 precious 100% natural oils. From the first drop, it repairs skin, making it look smooth, elastic and radiant.
The most restorative sleep for your skin. A sophisticated elixir with a velvety, melt-in texture, specially designed to boost skin repair while you sleep, promoting cell longevity.
If you haven't tried our elixirs yet, now's the time!
Subscribe to our Newsletter