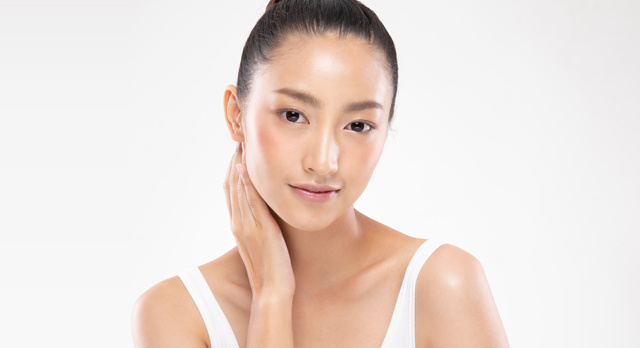 Retinol, the active ingredient that never goes out of style
Retinol is the anti-ageing and repairing active ingredient par excellence. It's endorsed by renowned dermatologists and beauty professionals, as it accelerates cellular activity, which decreases over the years.
The only downside: it's photosensitising. But right now, with lockdown in place, it shouldn't be a problem, right? Now's your chance to give your skin all the beneficial anti-ageing properties of retinol!
What is retinol?
It's vitamin A in the form of an active ingredient in skincare. But it's not the only active ingredient derived from vitamin A; it's actually part of a family called retinoids.
It's the only dermocosmetic active ingredient that has proven to be effective for more than 40 years now:
At the superficial level, it stimulates and balances cell renewal to even out the skin's surface.
At the deeper level, it works thanks to its high bioavailability, that is, its low molecular weight, stimulating the synthesis of collagen and elastin.
This is why, among its outstanding effects: it reduces wrinkles, smooths the skin texture, improves firmness, removes blemishes and reduces pore size…
The only disadvantage it has is that it can cause peeling and some sensitisation. This reaction is due to the fact that this amazing active ingredient takes some time to get used to. As it sensitises skin and reduces the stratum corneum, it's not advisable to use it when it's sunny, particularly in spring and summer.
Start enjoying its results
As you actually can't leave the house and your skin isn't exposed to sunlight, now's the time to benefit from the properties of this wonderful active ingredient and see a reduction in the signs of ageing on your skin.
We at Montibello recommend Retinol-A from our SKIN EXPERT cosmeceuticals range. This ultra-concentrated retinol (vitamin A) serum in vials has anti-ageing and regenerating activities. Its results are spectacular and visible early on: it fights wrinkles, smooths the skin, improving acne scars and scars, brightens and evens out skin tone. In short, it acts as an intensive skin repair serum.
How does it work? Thanks to its innovative formula, which contains a new generation of encapsulated retinol, which does away with the side effects of sensitisation. Its concentration is 3,000 UI/g and is enhanced with resveratrol.
How should you use it? We recommend an intensive 14-day treatment course. Apply the vial to the face, neck and décolleté until completely absorbed, preferably at night. To get longer-lasting results, extend the treatment course to a month, always applying the vial prior to your usual treatment cream.
Montibello's beauty tip
If you wish to enhance its regenerating action and smooth the texture of your skin, even out skin tone and reduce expression lines, exfoliate twice a week using Facial Essentials Revitalising Scrub with the help of a brossage brush.
Try it and share your results with us!
Subscribe to our Newsletter